Infrastructure
The following facilities of the School cater to the needs of practical courses pertaining to B.Tech. & M.Tech. programmes.
Aerodynamics & Propulsion Lab.
Aero Structures Lab.
Automobile Lab.
CAD/CAM Lab.
CNC centre.
Dynamics Lab.
Heat Transfer Lab.
Machine shop.
Metallurgy Lab.
Mechatronics Lab.
Metrology Lab.
Thermal Lab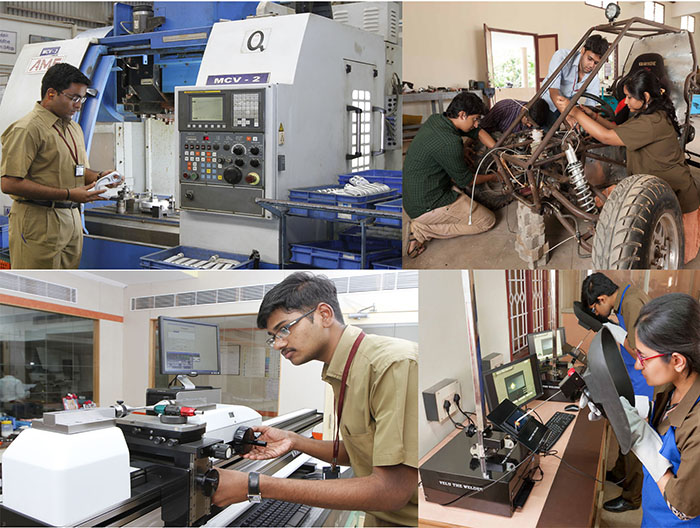 The CAD/CAM lab is equipped with dedicated Workstations and a High-end server with ADAMS, ANSYS, AutoCAD, Pro E, CATIA, EXTEND SIM, IDEAS, Mechanical Desktop and Solid CAM.
Shanmugha Precision Forging (SPF) is a unique facility for the students belonging to the School of Mechanical Engineering (SoME) to get hands-on industrial training embedded in their curriculum itself. It is a world class training cum manufacturing facility comprising the following facilities.
7 axes twin spindle turning centre with bar feeder facility
CNC machining centres
CNC Lathes
Conventional machines
Furnaces (Oil fired and electrical)
Non-traditional machines
Presses in different capacities
NABL accredited standards room facility comprising of Coordinate Measuring Machine (CMM), high resolution profile projector, contour recorder, video measuring system, universal length measuring machine, etc.
Research Facilities
Facilities like Variable Compression Ratio Engine, Computer Controlled Engine test-rig, Exhaust gas analyzer, Disc wear testing machine, Material Characterization test facilities, TIG welding, Stir-casting Furnace, etc. are available for conducting research and consultancy.
National Facility for Mechatronics
His Excellency Dr. A.P.J. Abdul Kalam, the then President of India dedicated the National Facility for Mechatronics to the nation on 24th September 2006. The facilities include an Automated Production System, Automation Studio software, Industrial Robot, Mobile robot, Pneumatic and Hydraulic simulators, Sensor kits, Workspace software etc. This facility is established in collaboration with AICTE and M/s Brakes India Ltd. and symbolizes the growing synergy between Mechanical, Electrical and Computer Science Engineering.